The Lorain County Underground Railroad Tour
Lorain County has a proud and fruitful tradition of equality. It is the home of Oberlin College, the first institution of higher learning to admit women and among the first to enroll African-Americans. It was also a major stop on the Underground Railroad. Lovingly preserved homes, the Westwood Cemetery, Martin Luther King Jr. Park and other monuments and landmarks-as well as cultural events-reflect the area's sense of dedication and purpose to people of all races.
The Wellington-Oberlin Slave Rescue of 1858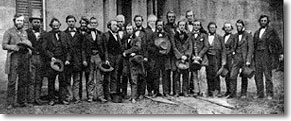 In September of that year, John Price, a fugitive slave living in Oberlin, was tricked by slave hunters and taken by force to the nearby town of Wellington to await a train that would transport him back to Kentucky and slavery. The news of his abduction spread rapidly, and local abolitionists sprung into action. Students from Oberlin College set out for Wellington on foot, only to be overtaken by black and white townspeople speeding past in carriages and on horseback. Vowing no slave would ever be taken from Oberlin, the mob surrounded the Wellington hotel where Price was being held by three slave catchers from Kentucky. The rescuers carried him out a window, shuttled him back to Oberlin and hid him in the basement of James Fairchild's house (Fairchild later became president of Oberlin College). Soon after, Price disappeared. It is assumed that he made it to Canada and freedom.
Thirty-seven rescuers were later indicted for their roles in the Wellington-Oberlin Slave Rescue, but only 20 served time in jail while awaiting trial. Eventually all 20 were acquitted and were welcomed back to Oberlin with a parade and rallies.
The Underground Railroad Tour highlights:
Underground Railroad Sculpture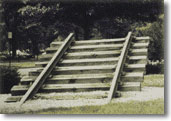 Look for the Underground Railroad Sculpture on South Professor street across from Oberlin College's Conservatory of Music. The dramatic railroad tracks that emerge from the ground were designed and installed by students.
Westwood Cemetery

Westwood Cemetery is the final resting place for many runaway slaves and abolitionists. A walking tour map is included in the Underground Railroad Tour Booklet available from the Lorain County Visitors Bureau. The guide provides a map and short biographies about many of the people who are known as Oberlin's "Faces of Change".
Underground Railroad Monument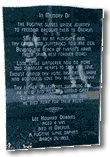 A monument erected by the Lorain County Visitors Bureau to pay tribute to those who gave their lives for the pursuit of freedom and particularly one small child, Lee Howard Dobbins. This 4 year old slave child who, in 1853, died in Oberlin on his way to freedom in Canada. His mother died in slavery, and his adoptive mother was forced to leave him behind due to his illness of consumption. Several days after he was left, he died in the home of an Oberlin family. A funeral was held in Oberlin's First Church where over 1000 people attended. The poem inscripted on the monument was read at little Lee Howard Dobbins' funeral and speaks loudly of the struggle for freedom from slavery.
The First Church of Oberlin
The First Church in Oberlin was built in 1842 and was the headquarters of the Oberlin Anti-Slavery Society. It was the site for a memorial service for John Copeland and Shields Green, who were hanged for participating in John Brown's raid on Harpers Ferry. First Church is also the site of funeral services for a four-year old fugitive slave child, Lee Howard Dobbins.
Oberlin Heritage Center
The Monroe House, the home of the town's leading Civil War hero, Giles Shurtleff, commander of the first black regiment in Ohio, has been lovingly renovated into a museum. Tours are given at 10:30 a.m. and 1:30 p.m every Tuesday, Thursday and Saturdays of every month. Cost is $6 per person. This home and two other restored sites are located at 73 S. Professor Street.
Martin Luther King Jr. Park
Martin Luther King Jr. Park features three monuments. The first is a unique monument (pictured left) to Martin Luther King Jr.; the second was erected for the three Oberlinites, John A. Copeland, Lewis Sheridan Leary, and Shields Green, who were killed as a result of John Brown's raid on Harpers Ferry; and the third features a photo of the Wellington-Oberlin Rescuers.
Lorain Underground Railroad Station 100
Lorain County proudly served as one of the final stops along the Underground Railroad. Slaves traveling to Canada often passed through this area until about 1861, following Frederick Douglass's advice to follow the North Star to freedom in Canada. Lorain County provided a direct route to Lake Erie as northern Lorain County borders Lake Erie's central basin. Some found the area so safe, they lived out their lives here. The station 100 historical monument and reflective garden can be found along the Black River in Lorain.
Lorain County's civil rights heritage continues today...
In 1995, the Tuskegee Airmen, a pioneering group of black pilots who flew during World War II, were honored in Elyria. Lorain County has also produced such notable personalities as novelist and Nobel Prize laureate Toni Morrison and syndicated columnist Carl T. Rowan. Also George Walker, a 1941 graduate of Oberlin, won the 1996 Pulitzer Prize for his composition "Lilacs".
Underground Railroad and Civil War-era homes can be found in Huntington, Oberlin, Elyria and Sheffield. Some are open to the public, while others continue to be private residences.
Visitors to Lorain County can recapture the spirit of the Underground Railroad on a driving tour, designed by the Lorain County Visitors Bureau.